Originally published at Myspace.com
The Scottish trio brought throbbing synthesizers and industrial pop to Austin, genuinely shocked by the warm Texan welcome. With stars in his eyes, one writer felt the spirit.

It was nearing 7 p.m. and I was preparing for Chvrches, arguably one of the hottest bands of the year. With just the Recover EP to its name, the trio signed to Glassnote in January, making them label mates with pop powerhouse Phoenix. And if its inaugural release didn't already do the trick, the band's full-length debut, due this autumn, will tilt the scale.
The live experience, though, is another matter. Last night (June 5), the Scottish group played at Mohawk, my overall favorite venue in this town of about a billion venues. I looked forward to swooning over singer Lauren Mayberry—although, I knew because of it, that would probably mean I'm missing a certain folk-singer (Tristen) I favor who plays the same stage tomorrow night.
When my photographer and I arrived at the venue, the sun was setting beyond the sycamore trees and a large portion of the sold out crowd was upstairs on the deck eagerly awaiting show time. "We're here for Still Corners, the opener," a fan told me. He was dressed in a blue-collared shirt and sipping on an Austin Pearl Snap pilsner. "We heard them on Spotify and really liked their sound."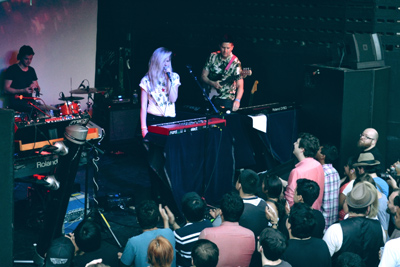 The London-borne band took the stage soon after and began by performing material off of its second album Strange Pleasures (Sub Pop), released last month. Behind the quartet, images of flashing lights, flora and shapes incessantly swirled as the singer, Tessa Murray, gazed out into the crowd.
"You're in for a treat," she told the audience in her alluring British accent before the bass line kicked up and set the tone, easing into "Berlin Lovers." The songstress stroked her synthesizer and crooned over the mostly synthetic music, singing ambrosial harmonies accompanied by layered vocal tracks.
An earnest mix of stragglers trickled into Mohawk, feeding into Still Corners' vibrant energy as the set continued. And make no mistake about it: they were here to party. Austin music fans are a vigorous bunch that takes their drinks and music seriously, passionate people who take pride in being ahead of the curve. And it's precisely why they assembled to see the show.
"Listen to the tide / It pulls us in / Close to end of time / Can we begin?" Murray sang on the chanting psych-rock jam "Endless Summer." Its onerous tones and heavy percussion were moving, and we collectively nodded in agreement. It was a hazy night, and we were all sweating.
The band exited gracefully, to an ovation from the crowd. We anxiously waited for Mayberry and her band, filling and re-filling our glasses in anticipation for what was next. As Chvrches took the stage, our congregation gave them a rousing welcome that the Scots appeared to find endearing. Their ascension to pop stardom seemed apparent to everyone but them, and their humility made them all that more attractive.
Chvrches—consisting of Mayberry (vocals), Iain Cook (vocals, synths) and Martin Doherty (vocals, synths)—began its performance. Swirling synth rhythms backed the adorable singer as precise percussion set the pace for the moving feet on the ground, an ecclesial dance that continued through the night. It all felt very sensual, coming from a singular female. The verse-to-chorus wall of sound powered into the faithful followers and we were all taken aback. A group of girls next to me danced, and danced hard—they already knew every beat and every word to the song, unsurprising given the speed of today's blogosphere.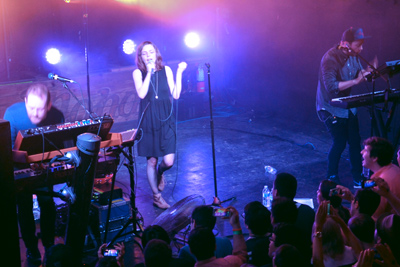 "I have burned your bridges / Now I'll be a gun / And it's you I'll come for / I have never felt so easy / I will be a gun," sang Mayberry on "Gun," a chirpy, synth-splotched single released last month. I was pleasantly surprised at the catchiness—the fallout low frequency was wholly progressive, and came across as an anthem with its aerial crescendos and heartrending lyrics that float above the piquant substance, delighting with its sweetness.
Generously, the group announced that it would play two new songs that will be on the full-length record, due out in September. One was called "Love," and its softness provided a nice break from the pulsing bass Cook has been—um, cooking up all night.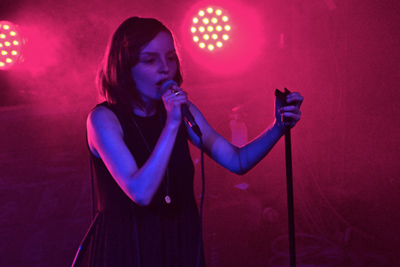 By the end of their set, Austin hadn't had enough—"One more song!" we chanted. The band came on with some hesitation. "OK, but only one more," they told us. "Our electronics can't take it." But they sweated through one more with us, a majestic cover of Prince's "I Will Die for You."
We came to sing hymns with Lauren Mayberry. And the service was beautiful.

Photography by Nathan Patterson